Virus Remover Professional, also known as VirusRemoverProfessional is a fake rogue virus program that shows only bogus results and tries to create fear in the user to purchase the program buy saying things like all their passwords are begin stolen. This fake security product will keep scanning your computer and give annoying pop-ups as well as re-directs in your web browser until you make the purchase of the product. Once again we do not recommend purchasing this fake product.
Quick pic of what this fake software looks like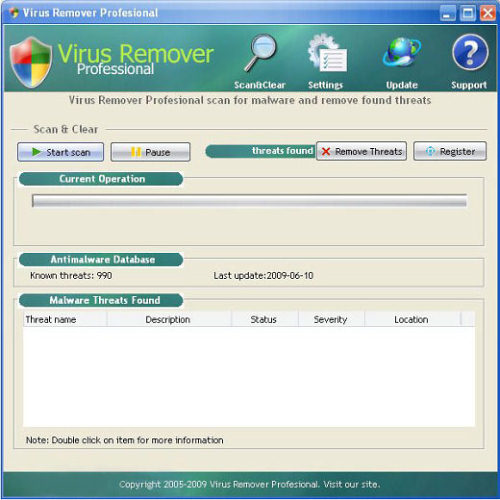 In just about every case someone who gets infected with such a fake client like Virus Remover Professional got that way from a fake video codec or some BS tiral software.  you should expect to also be infected with a trojan such as Virtumonde, Vundo or Zlob if you have this bogus security client on your computer.
we normally recommend Spyware Doctor with antivirus for removal of such things but at this time it FAILED to remove this fake client.  we have reported the threat to PCtools and they are working on a cure.
In the mean time you can always try to remove this client manually.  Check out this http://www.removevirus.org/remove-virus-remover-professional page for manual removal of this.
Please not that http://www.pcninja.com as always is aware of this threat as well and they can also remove it for you.